A huge thank you to Tender Leaf Toys for sponsoring this post! All opinions are my own.
This post contains affiliate links. If you shop from my blog, I may be compensated for clicks or purchases that you make.
I believe that all children should have an adequate amount of time to just PLAY throughout their day. The students at the school where I teach at get 45 minutes to play outside! Playing with others, toys, and your imagination is important to your child's brain development!
I love this quote from my principal: "Connected to technology, disconnected to people. In my own limited experience, I have found that children who have significant amounts of daily access to iPads, iPhones and the like at a young age tend to struggle connecting with people. They struggle to make eye contact, follow directions or imitate others and often it has an impact on their classroom experience. I've also noticed that children who struggle to connect with people tend to want to connect to technology. It is very likely that these children would struggle to connect with people regardless of technology and that technology simply compounds a natural tendency. Bottom line, for some people anything that makes learning passive is a bad idea."
Technology is not a bad thing but when it takes the place of social interaction or your imagination it can become something you idolize. This is something I am CONSTANTLY working to improve on. I don't want to just give my child an iPad or my phone at the first cry.
I want my children to not be glued to a TV or iPad. I think a lot of that begins with the parent. If my child sees me on my phone then they will want to model that.
I recently found some amazing wooden toys that inspire and encourage my preschool age daughter to use her imagination and just PLAY!
Tender Leaf Toys offer a variety of colorful, wooden toys, by Mentari Toys that are made with sustainable materials and then finished with a non-toxic paint!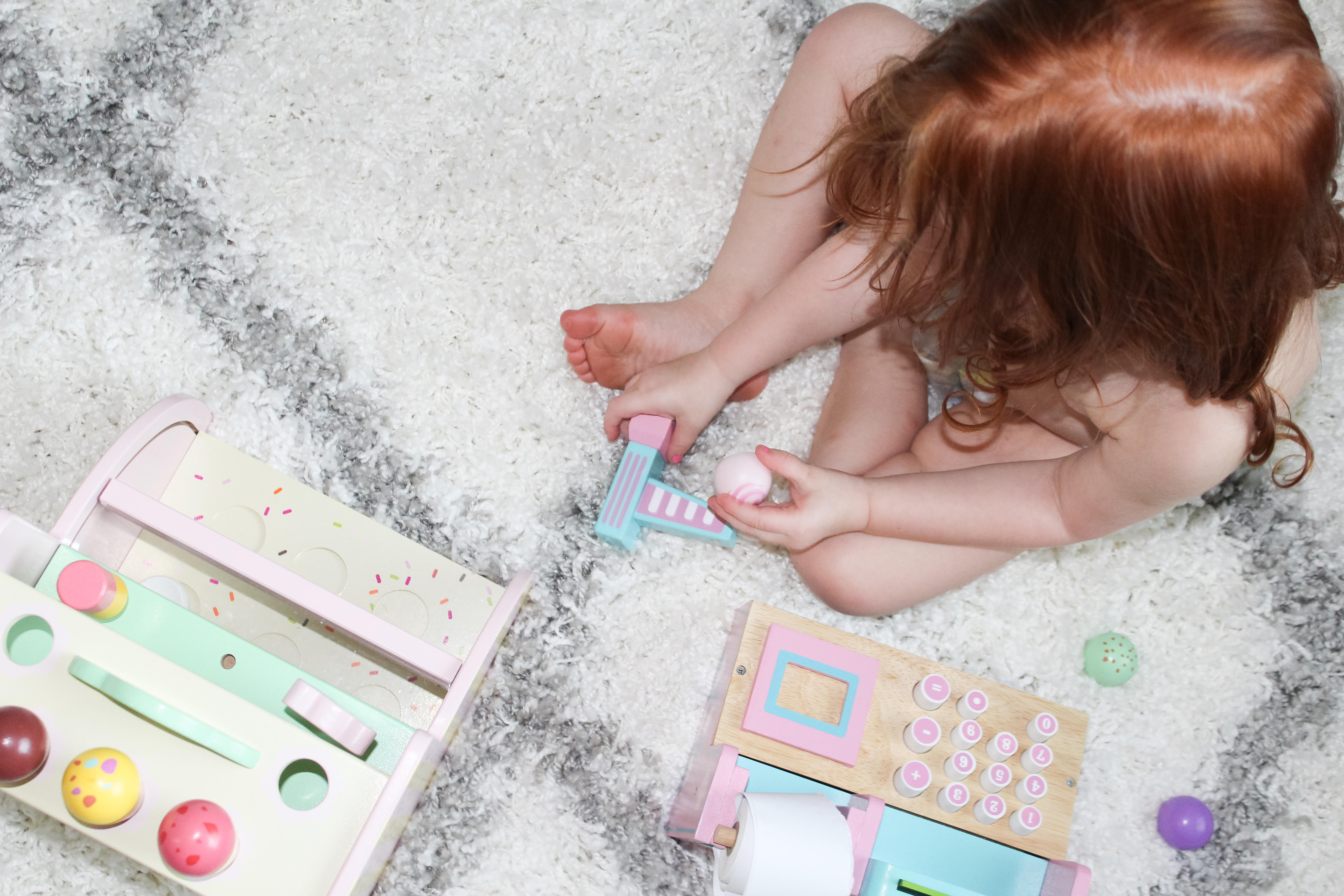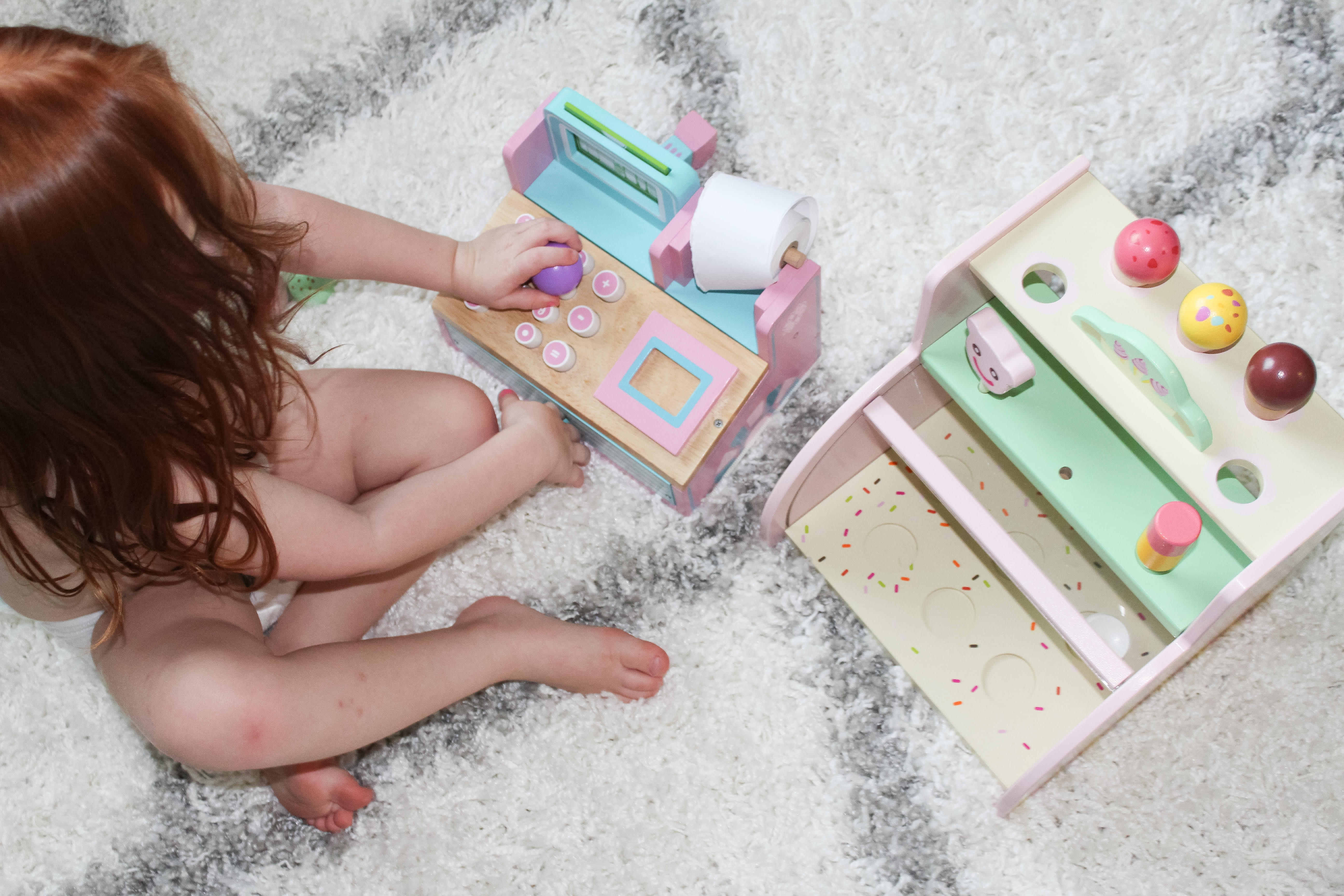 The Ice Lollies stand is precious! It comes with 3 lollies, 5 cones, and a ton of different colored scoops of ice cream!!! The shop opens and closes to store the ice cream scoops!
Ainsley loves using her cash register to check out her customers who bought an ice cream!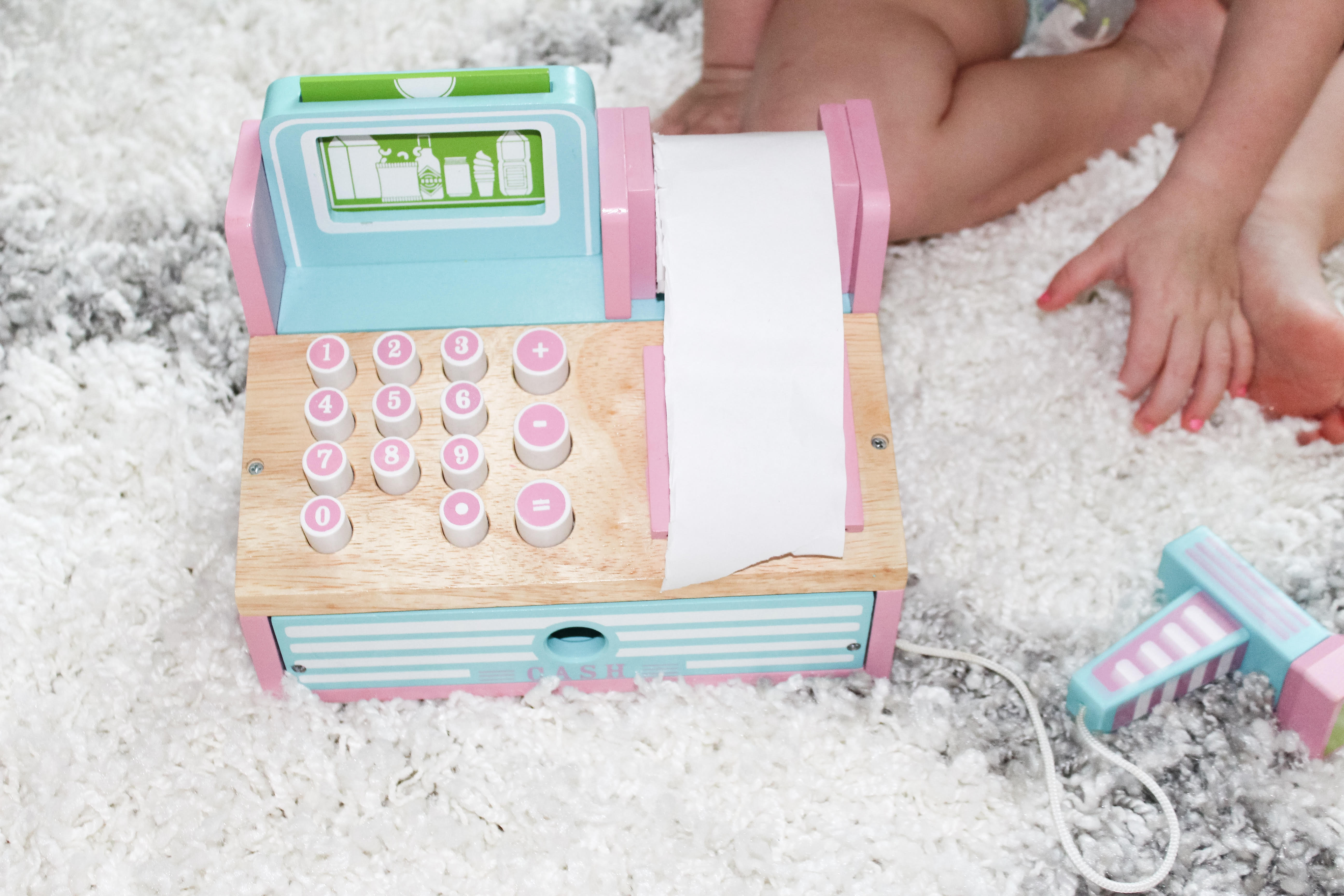 This cash register is so adorable! It comes with an actual roll of tape for the receipt, buttons that you can push down, a price scanner, money, coins, and little fruit and vegetable cards. I LOVE the colors on this toy! Ainsley is really into playing store and has a shopping cart from Pottery Barn Kids so this made her pretend shopping experience complete!
Make sure to check out Tender Leaf Toys on: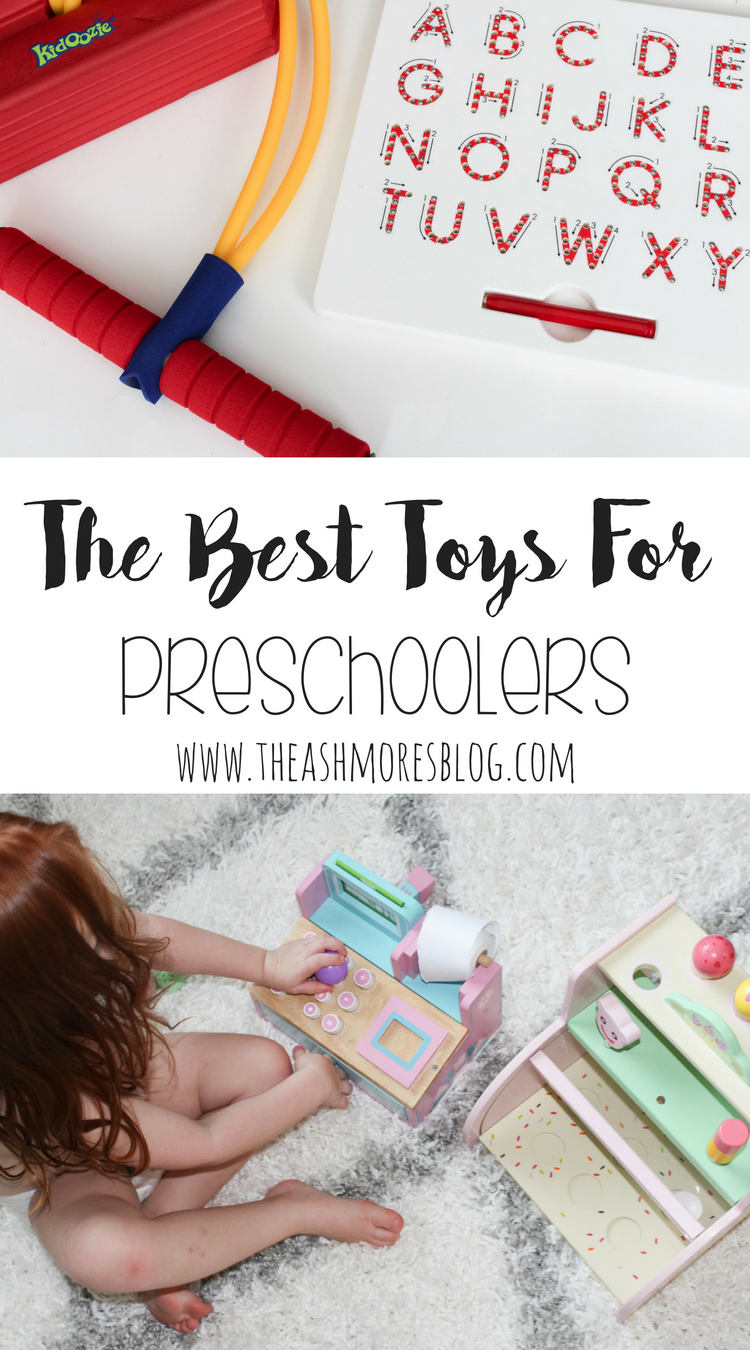 Now that I have introduced you to my new, favorite toy brand I wanted to share a few more toys that Ainsley LOVES!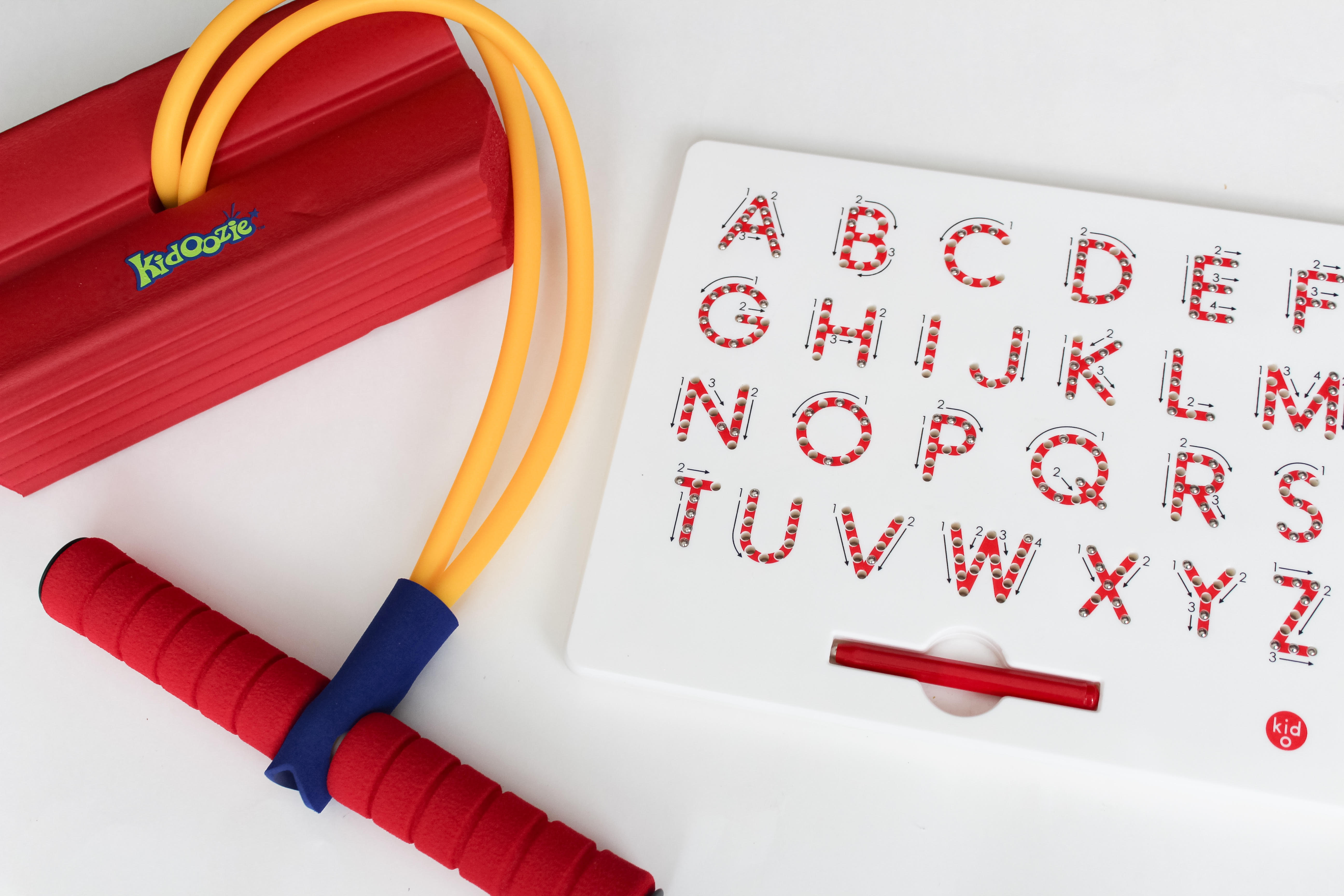 This pogo stick is AWESOME! Ainsley got it for her 3th birthday and is even great for adults! 😉 I linked both of these toys below.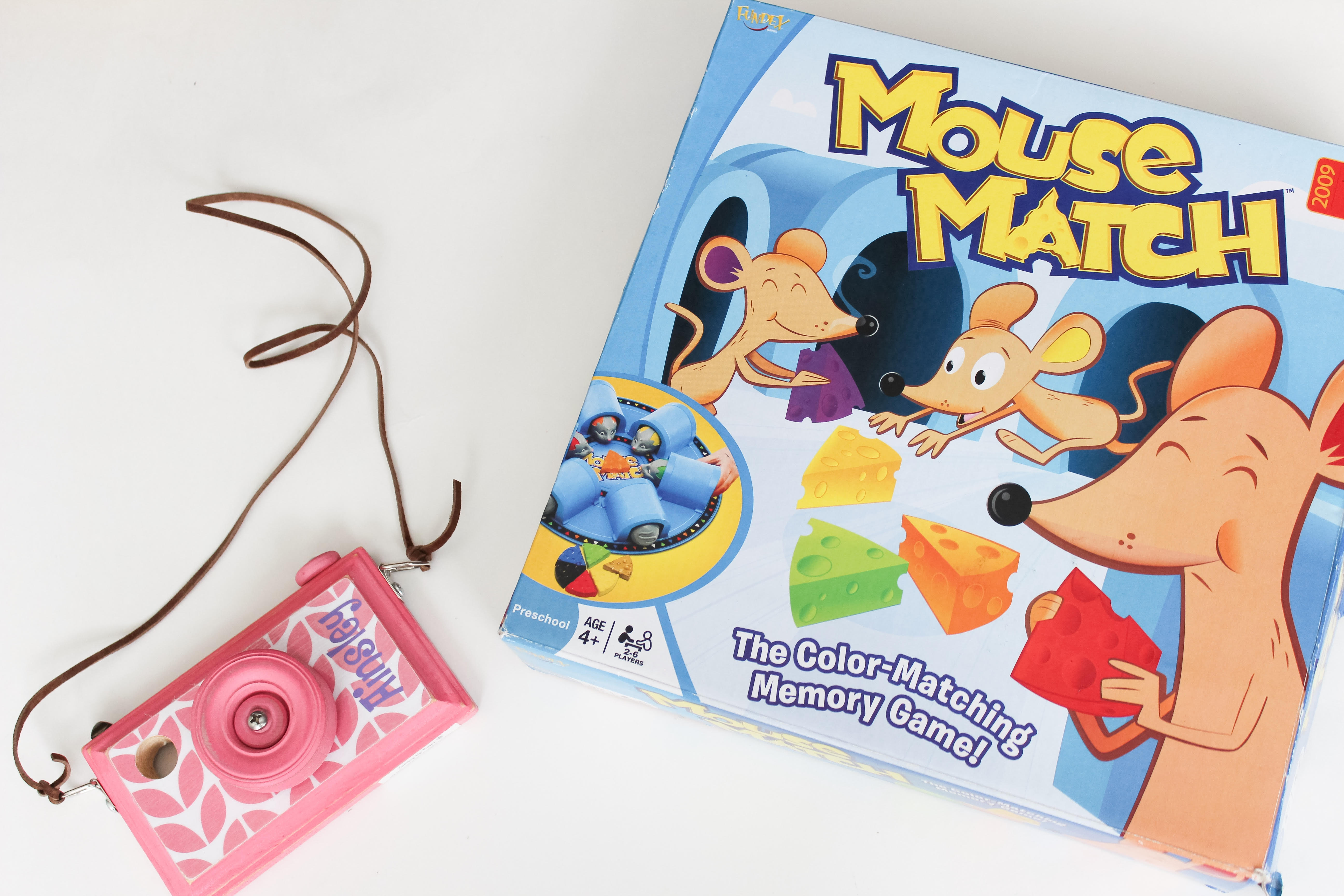 This adorable camera is perfect for imaginative play! Mouse Match is probably hands down Ainsley's FAVORITE game! We play this game at least 5 times a week!!
I also included of a few more toys that Ainsley has below!