That time was tonight. I did everything the same way I've been doing it for the past month. It had been 3 hours since you last ate. I fed you 3 ounces. I changed your diaper. I put on your lotion. I put on your footed pjs. You were burped and swaddled. I put you to sleep with your paci. I walked away thinking about the hundreds of things to do still. You kept spitting your paci out. You continued to cry.
What did I do wrong? WHY were you still crying???? I sat in bed for 30 minutes and continued to put your paci in. I got you out numerous times and rocked you. I tried to burp you more. Nothing was working. I made another bottle of 2 ounces of formula. You guzzled it down. That was 5 ounces total. Your pediatrician said you should be drinking about 2-3 ounces every 3 hours. 5 was too much. No way. I wasn't going to give you more, you should be full with 3 right?
No, she was still hungry. I was trying to follow the rules  and not my heart. You just wanted to be held.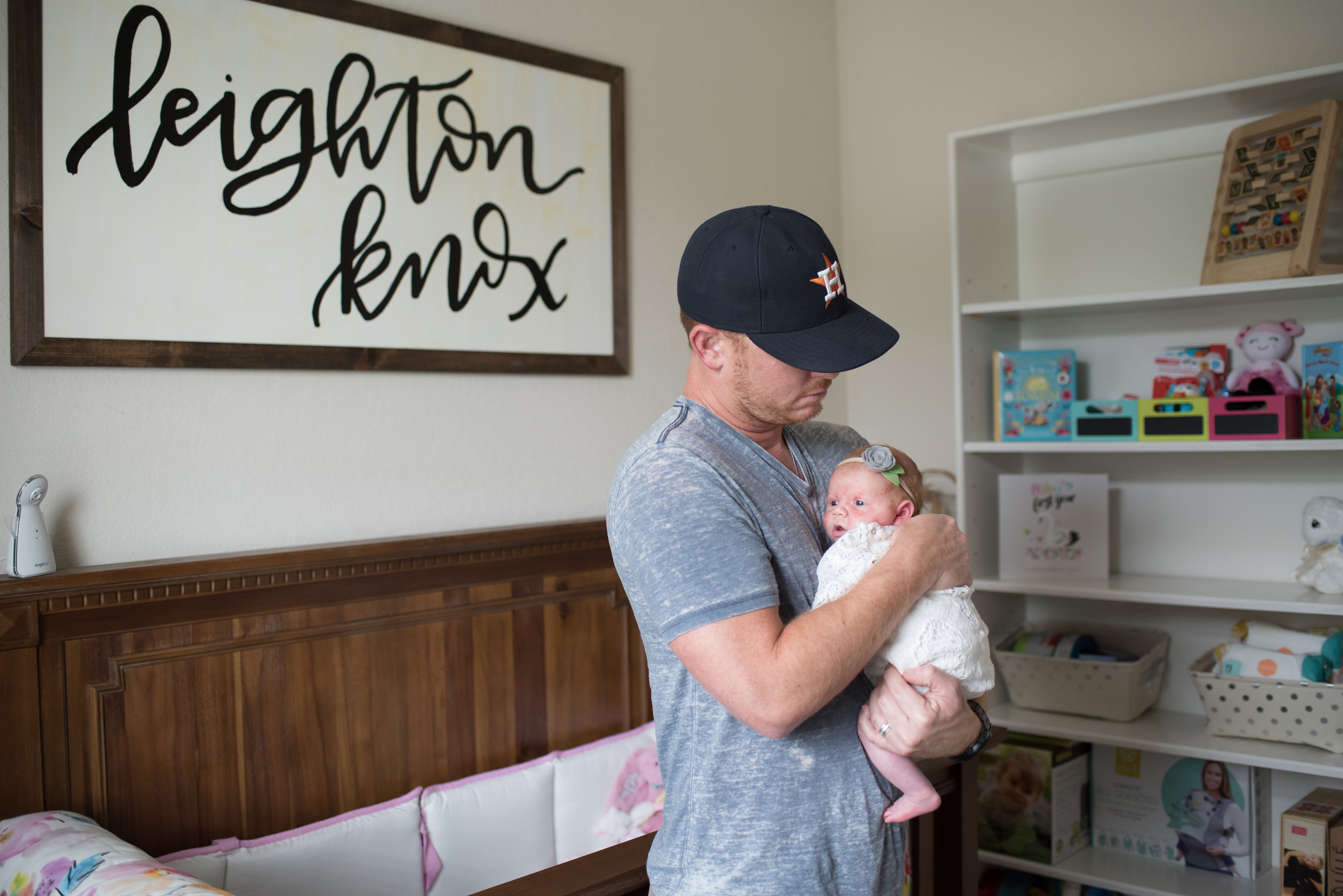 I tried to put her down again after drinking 5 ounces. You still kept crying. You were making your adorable cat like noises through the paci.
I was frustrated to say the least. I picked you up again. Your dad walked by and I handed you off like a football. I was done. I didn't want to hold you. He said to make another 2 ounces. Was he crazy? That would be 7 ounces. He was right. She wanted more to drink and then she wanted to just be held. He held her and she fell asleep on his stomach. He is amazing y'all.
This was a real feeling I had inside of me. Is it okay to feel this way? I asked Jerod if it was normal. He said yes. I think feeling that way is totally okay. Having a newborn is extremely hard when you have two other children. Especially when those two other children aren't going to bed and are keeping each other up an hour after I put them to sleep.
People say time goes by way too fast when you're smaller. I have come to realize this is a true statement. My son will be 8 this December. This blows my mind.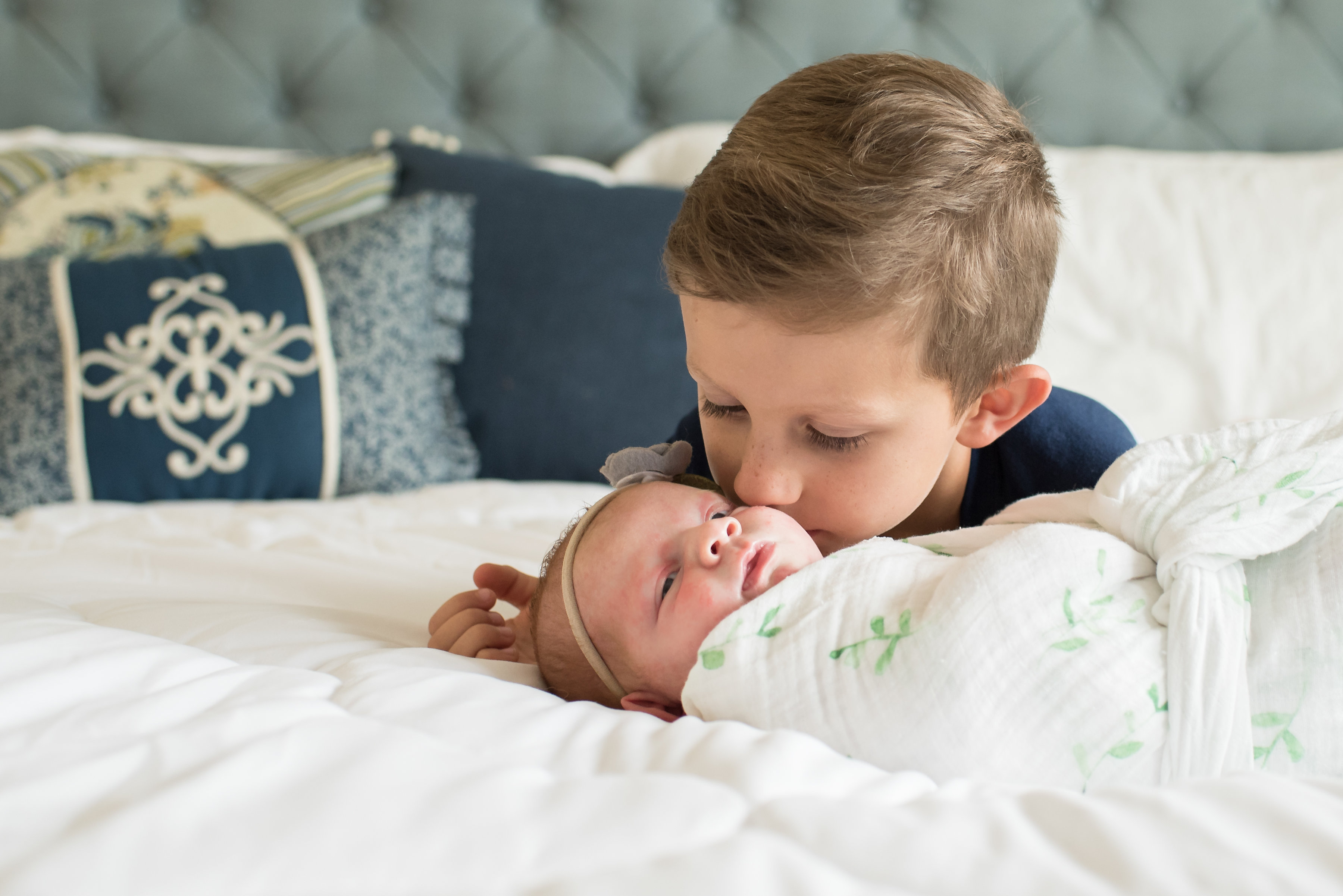 I don't want to not hold you. I don't want to ever forget your newborn self. The truth is sometimes I don't want to though. I want a breather. I want to just sit down and not think about what I have to get done. Motherhood is never ending. It's seriously the hardest job on the planet. I need to go to the one who created me.
I am still not doing that. I am trying to do this mother thing on my own. It's not working in my favor. So much of me wants me to do it my way… on my terms…. well that's where I am wrong.
I say to the LORD, "You are my Lord; apart from you I have no good thing." Psalm 16:2
I need to remind myself of this scripture daily. Oh and this one too..
"Do not be anxious about anything" Phil. 4:6
If you read this post then you know I've been dealing with some postpartum anxiety.The Lord calls us to not be anxious about anything. I have to remind myself daily this struggle. There is nothing to be anxious about. He made me to be a mother. He will get me through it. He will get you through it also.
Just remember if you're in this same season as me, and you might be. It's okay to feel this way. I think it's also important to discuss these feelings with loved ones. People that will listen and offer meaningful feedback. I am so thankful for my husband and the support system he has been during this really tough season. Thank you all for reading my blog and offering encouragement. It truly means so much to me.